Principals Welcome
Tēnā koutou, tēnā koutou, tēnā koutou katoa
Nga mihi nui ki a koutou katoa
Warm greetings to everyone
At Pillans Point School we believe that learning at school should be seen as an 'Adventure' that is ongoing and never ending. Our role as a school is to build on the learning from home to give your children the skills and competencies to go on a great adventure in life.
'Adventurous Learning' is a motto that guides our schools strategic direction as well as our school curriculum. We believe it is a motto that is aspirational, inspirational and achievable.
Our vision statement is simple - Growing Adventurous Learners for Life and we do this through our Pillans Point Learner Competencies.
The 'Pillans Point Learner Competencies' have been designed and shaped to meet the needs of our school and the students from our community. They are the competencies that we want children to learn, know, develop and master as they move through our school from the age of five through to year six.
Research highlights a dual focus on academics and developing life skills is critical for children's success. Mastery of such traits predicts children's academic and future success throughout life as well, if not better, than academic success alone.
We believe that when learning and working through our five Pillans Point Competencies we will be applying the 5 Key Competencies outlined in the New Zealand Curriculum document in 'meaningful contexts' NZC p38. We see the Pillans Point School Learner Competencies as social competencies that will be learned alongside and through the traditional curriculum (Mathematics, Sciences, The Arts, Technology, Social Science, Health & Physical Education and English) both of which have equal importance within our classrooms.
We have a talented team of teaching and support staff who work together to create the best possible teaching and learning opportunities for your children. We have a strong school culture that is built around many of the exciting things that happen within our school.
Our school is made up of four teaching teams based around children's ages, as well as a School House system that encourages children of all ages to mix with each other. (Don't worry, all families are in the same house too, this stops the morning arguments on which house is the best on X Country day!)
As a school we welcome parents to take a full and active part in their child's learning. We encourage you to have open communication with your child's teacher and the school leadership team. Should at any stage you wish to discuss your child in relation to their schooling please do not hesitate to make contact with us.
Ngā manaakitanga
Matt Simeon
Principal
Pillans Point School
Term Dates 2021/2022
2021
Term 4: Monday 18 October - Wednesday 15 December (12:30pm finish)
Labour Day - Monday 25 October
Teacher Only Day - Tuesday 26 October
---
2022
Term 1: Tuesday 1 February - Friday 15 April
Waitangi Day Observed - Monday 7th February
Good Friday - Friday 15th April
Term 2: Monday 2 May - Friday 8 July
Queens Birthday - Monday 6th June
Matariki Holiday - Friday 24th June
Term 3: Monday 25 July - Friday 30 September
Term 4: Monday 17 October - Thursday 15 December
Labour Day - Monday 24th October
2021 Wall Planner
Click HERE
Community Pool Use
Notification to the Community - Public use of School Pool Summer 2021-2022
9th November 2021
Dear Community
At last night's Board of Trustees (BOT) meeting, the BOT discussed the public use of the school pool for the coming summer.
The BOT considered what was required to open the school pool which includes hygiene, social distancing, contact tracing as well as having a system with overall supervision.
Considering these complexities and the associated risks to the BOT, the decision was made that the pool will not be open for public use under the current COVID-19 protocols.
This will be reviewed at the first board meeting of term one.
While we understand this is disappointing, we need to ensure the safety of our community. We appreciate your understanding during these unprecedented times.
Pillans Point School Board of Trustees.
------
Pillans Point School views the school pool as a resource for the community, outside of school hours. Each summer (approx. October - March) the school sells pool access to members of our school community via the PalGate app.
In return, we ask that families using the pool respect it and use it as if it was their own pool in their backyard.
SECURITY & PALGATE APP
Our school pool has 24/7 security camera coverage that we will use in the case of misuse of the pool area.
From November 2020 access to the pool will be through the use of the PalGate App. Once you have registered and paid for pool access by completing the form below; you will be emailed instructions on how to download & use the PalGate app.
Once you have downloaded and set the app up; you will have access to the pool.
The app will only work if you are 1m or less away from the pool gate.
Due to the elimination of physical keys; we no longer need to charge a bond and the cost for pool access is now $80.00 for the summer.

Pool Access Registration Form
Please note - you have to complete payment at the end of this registration form. If you don't make payment when prompted after completing the form; your registration will not be sent to us to process.
Uniform
Pillans Point School has teamed up with Kukri to supply our school uniform.
Kukri have been our valued supplier for over 6 years.
Uniform can be tried on at School and purchased either at School or online. The school holds stock of most items onsite.
Click on the pdf button below to download an order form.


Main Uniform Garments
Polo Shirt $35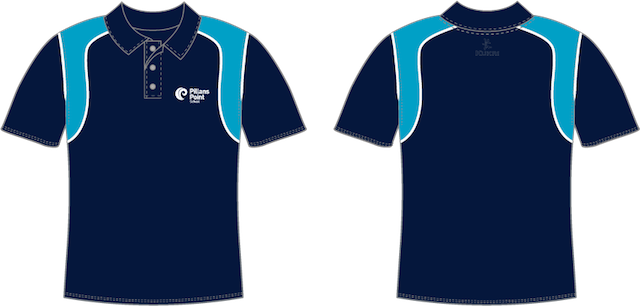 Shorts $35

Skort $35

Bucket Hat $15

Wide Brim Hat $25

Fleece $50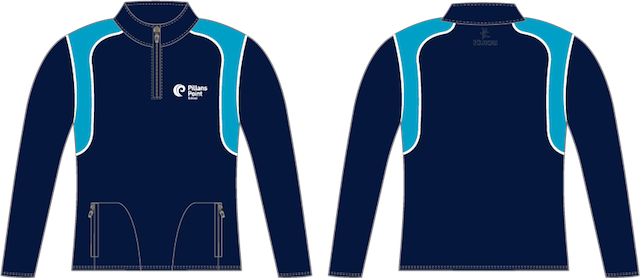 Jacket $60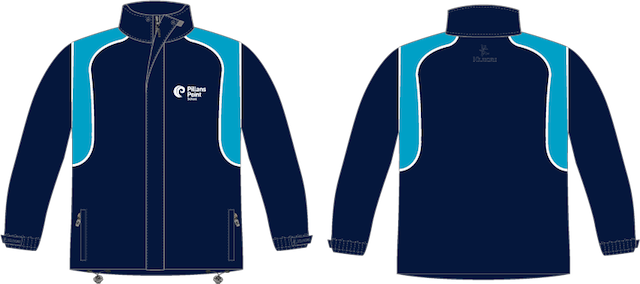 Track Pants $50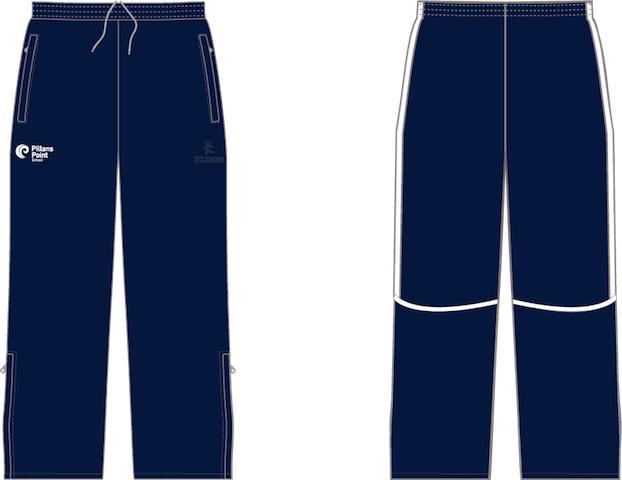 Policies
All of the School's policies and procedures are now available online. Just click here to be taken directly to our policies and procedures.
The site requires a user name and password to gain access. The required user name is pillanspoint and the password is pillans
To Review a Policy:
Follow the blue link to "Schooldocs" and log in using the user name (

pillanspoint)

and the password (

pillans)

.
Look for the red print and click on 'currently under review'. This is situated in the middle of the page.
Select a policy and read it. You only need to review the grey printing at the top of the page as the supporting documentation will be reviewed at a later date. (If you choose to you may read the supporting documentation by clicking on the red print).
Click on the Review Policy button (top right of page, bold black print).
Log in by choosing your category in the drop down menu; either Parent, Staff Member or Board Member.
Secondly write your name (optional).
Complete the response form.
For families without Internet access a review form can be collected form the office.
Thank you for taking the time to respond, your participation is appreciated.
Copyright: Except where stated, the content on this site is the copyright of SchoolDocs Ltd. It may not be reproduced without written permission from SchoolDocs Ltd.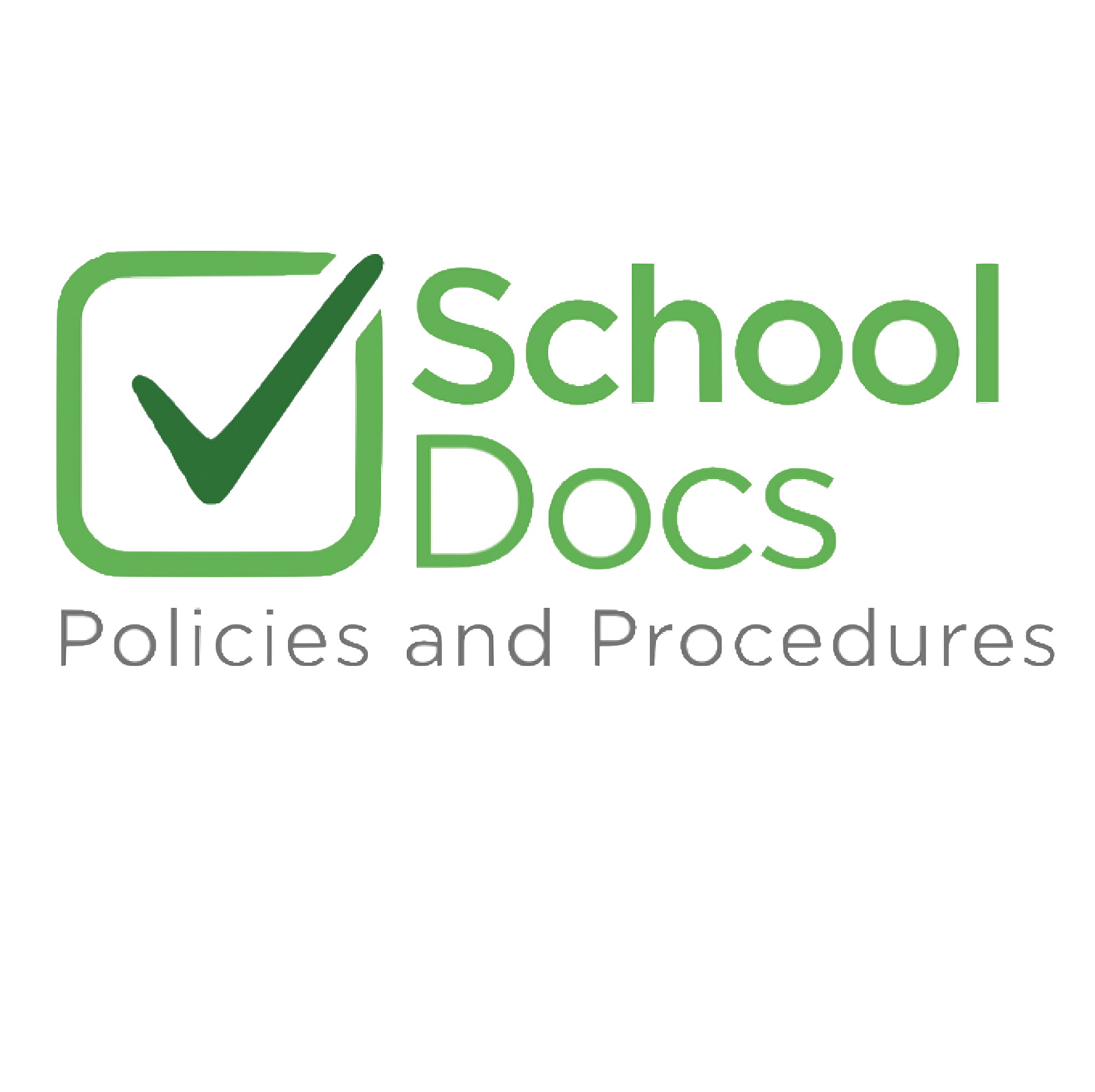 sKids- Before and After School Care
It's time to book your April School Holidays in with sKids, and join in on the Autumn Fiesta!
https://www.skids.co.nz/locations/pillans_point/
From Term 2 2021 sKids Pillans Point is using a new booking system, Enrolmy! There are no rollover bookings so if you'd like your child/ren to attend please jump online https://www.skids.co.nz/book-with-us/ and book now!
Please visit www.sKids.co.nz/Pillans_Point to enrol or make a booking or call us on 0800 274 172.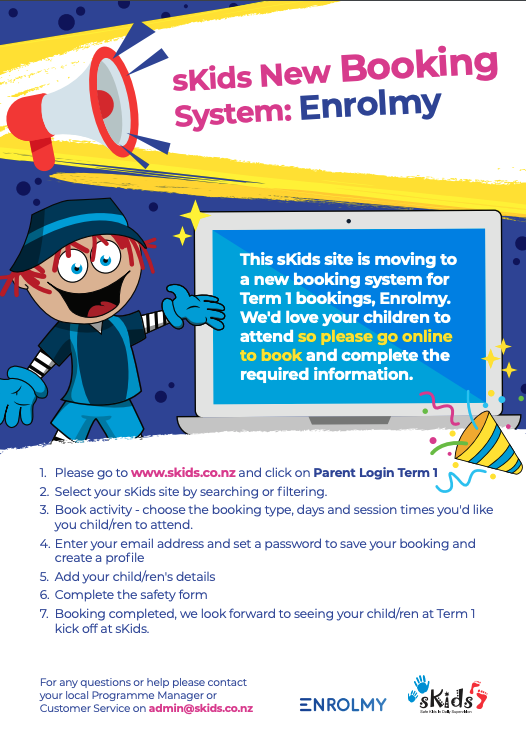 Feet First
Will you partner with us to reduce after school traffic? The Tauranga City Council are fielding complaints about our school traffic! Alongside this, as a school we want to keep kids safe. Pillans Point School is growing. Our after school traffic problem, will only get better, if we are all committed to making some changes.
Pillans Point School are working with the Tauranga City Council and NZ Police to develop healthy habits, that will also reduce our traffic problems. All children have attended either Reuben the Road Safety Bear, or Dan the Puppet Man regarding road safety. The Year 1 to Year 4 children have also had practical road crossing lessons from the NZ Police.
This is an incentives based programme to get kids walking, scootering, biking, or park 'n' striding to school. Park 'n' stride is to reduce the traffic at the turn around by parking at least 500m away from the school e.g. Countdown, Rutherford Park, or along Pillans Road. Children will walk to your agreed location after school.
For your children to get involved in this programme they need to ask their teacher for a Feet First card. Then everytime they walk, scooter, bike or park 'n' stride they tell their teacher and get their card stamped. After receiving a certain number of stamps they will be rewarded with bag tags.
2019-2022 Re-developments
In the May 2017 Budget the National Government approved $5M to Pillans Point School to support the redevelopment of the school due to its significant roll growth.
To ensure that our school site was protected for the future growth and development, a site Master Plan was created that updated all services and then proposed the best plan for redeveloping our site.
As at May 2019, the master plan is completed and Stage One & Two of the project are in conceptual design phase.
The image below shows the main stages of the project, what is happening and where.