Enrolment
All students who permanently reside in the school zone (as per the zone map below) have automatic right to attend Pillans Point School. This is determined on the sighting a proof of residency (a copy of your tenancy agreement, a property sales and purchase document or a rates invoice). All documents must be current and dated within the month of your child starting school. It is important to note that enrolment does not commence until the day your child starts school.
Should you meet all of the criteria above please follow the instructions and complete an online pre-enrolment application HERE.
Once completed if your child is of school age or close to turning 5 you should expect contact from our Ngātahi Co-ordinator within a week. If this isn't the case please feel free to call us on 07 576 9407 or e-mail office@pillanspoint.school.nz
The number of places for out of zone enrolments is determined each year by the Board, at their September meeting, for the following year.
We currently have 12 out of zone spaces available for children turning 5 between August 17 2021 & February 1st 2022.
Please apply in writing with the following information: Child's name, date of birth, address, parent contact name, phone number, current daycare / pre school attending, younger siblings, older siblings. This will need to be emailed to Johanna Brown johannab@pillanspoint.school.nz
The ballot will close on Monday 13th September @ 12:30pm. Emails received after this time will not be considered for the ballot. See the letter below for more details.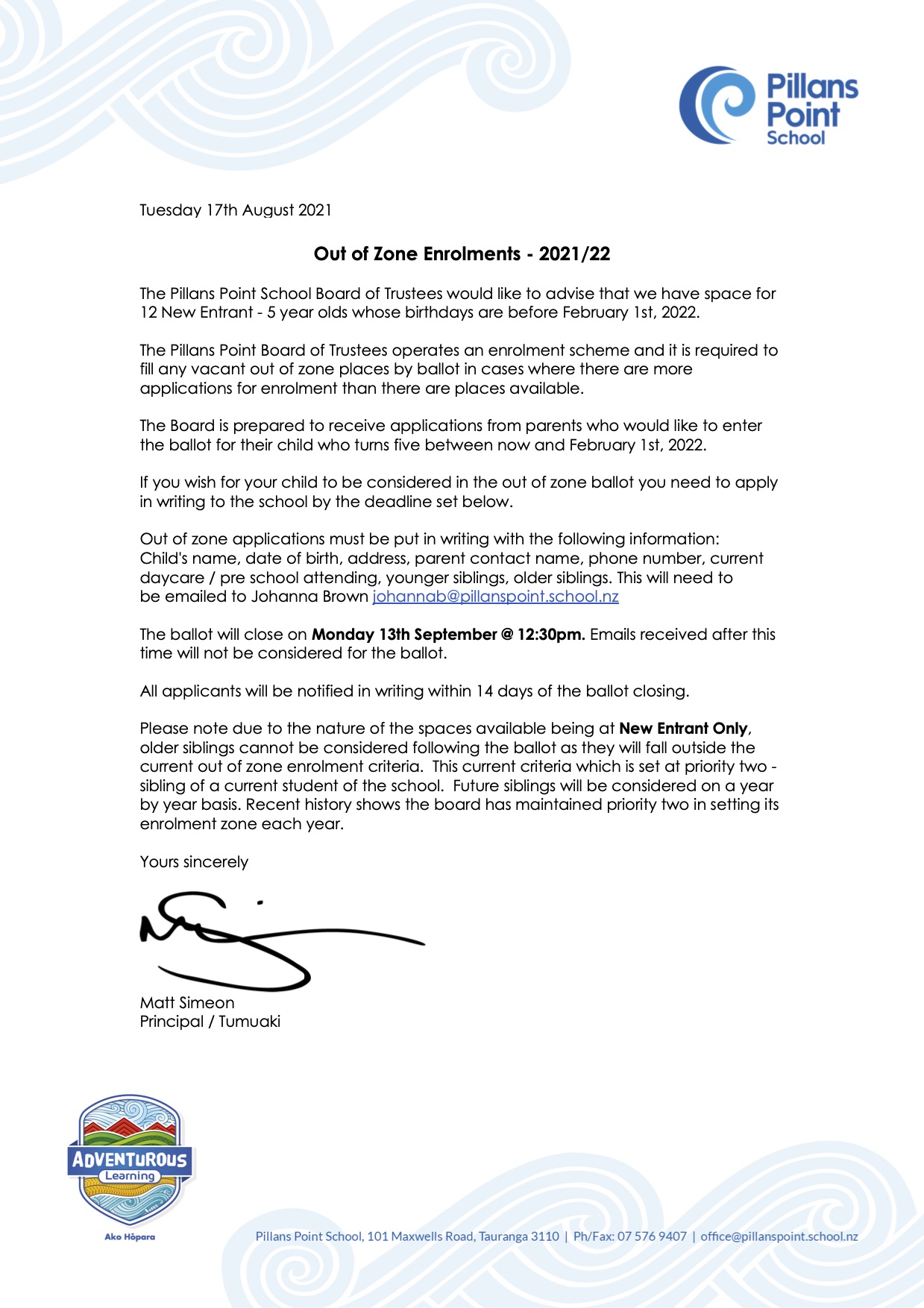 Cohort Entry Policy
Pillans Point School has adopted a cohort entry policy which applies to 5 year olds (New Entrant enrolments) only. There are eight starting dates for 5 year olds during the year. Students can start school on a cohort entry date after their fifth birthday.
Please note that it is a legal requirement that a child is enrolled at a school from age 6. Therefore, if not already enrolled, a child can start school on their 6th birthday regardless of a school's cohort entry policy, but must start school no later than their 6th birthday.
Term 4 2021
Cohort Entry Date: 18/10/2021
Cohort Entry Date: 15/11/2021
Term 1 2022
Cohort Entry Date: 01/02/22
Cohort Entry Date: 14/03/22
Term 2 2022
Cohort Entry Date: 02/05/22
Cohort Entry Date: 07/06/22
Term 3 2022
Cohort Entry Date: 25/07/22
Cohort Entry Date: 29/08/22
Term 4 2022
Cohort Entry Date: 17/10/22
Cohort Entry Date: 21/11/22
Supporting documents are also required before your child starts at Pillans Point School. We need a copy of their Birth Certificate/Passport, immunisation record if they have been immunised, and proof of address as stated above. We also require a statutory declaration to be completed and returned which you should have received in your new entrant enrolment pack, or given to you by our office staff. These documents can either be scanned and attached to their online enrolment, dropped off at the School office within a month of them starting, or e-mailed through to office@pillanspoint.school.nz.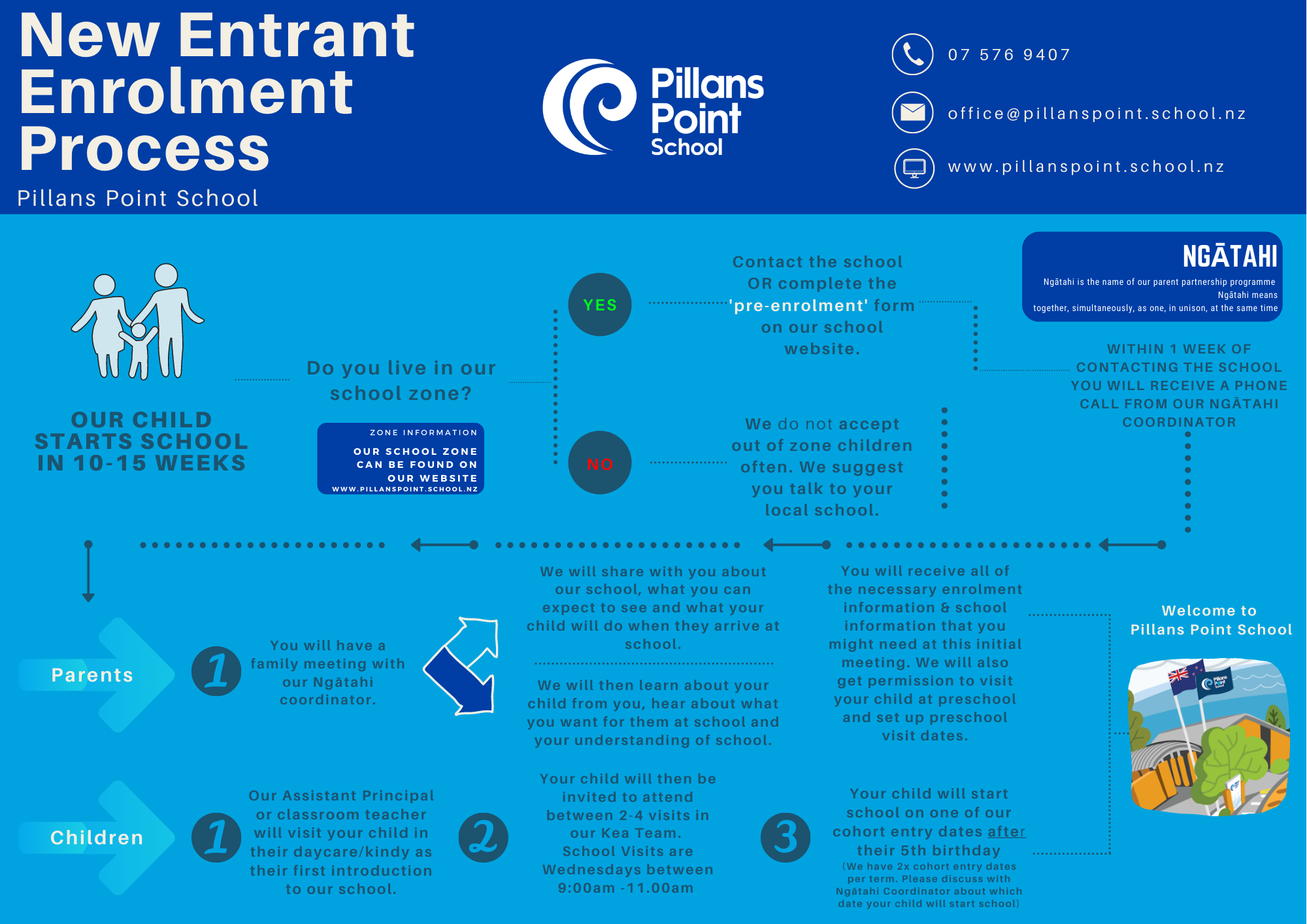 Enrolment Zone
School enrolment zones stop schools from getting overcrowded, and give children who live in the school area (the zone) a guarantee that they can go to their local school.
Home Zone
All students who live within the home zone described below (and shown on the attached map) shall be eligible to enrol at the school.
All children whose usual place of residence or who come to reside in the defined geographical area are entitled to enrol at Pillans Point School.
The geographical area is defined by the line on the attached map which indicates a half way distance by road to the neighbouring schools.
Out of Zone Enrolments
Each year the Board of Trustees will determine the number of places which are likely to be available in the following year for the enrolment of students who live outside the home zone. The Board will publish this information by notice in a daily or community newspaper circulating in the area served by the school. The notice will indicate how applications are to be made and will specify a date by which all applications must be received.
Applications for enrolments will be processed in the following order of priority:
First Priority
This priority is not applicable at this school because the school does not run a special programme approved by the Secretary for Education.
Second Priority
Will be given to applicants who are siblings of current students.
Third Priority
Will be given to applicants who are siblings of former students.
Fourth Priority
Will be given to any applicant who is a child of a former student of the school.
Fifth Priority
Will be given to any applicant who is either a child of an employee of the board of the school or a child of a member of the board of the school.
Sixth Priority
Will be given to all other applicants.
If there are more applicants in the second, third, fourth or fifth priority groups than there are places available, Selection within the priority group will be by ballot conducted in accordance with instructions by the Secretary. Under Section 11G (1) on the Education Act 1989. Parents will be informed of the date of any ballot by notice in a daily or community newspaper circulating in the area served by the school.
Pillans Point School Zone

Click the image above to be redirected to an interactivemap of our school zone and nearby school zones.
Search Pillans Point School to view our school.